Local SEO Tactics for Realtor Websites & Google My Business Listings
Original source:
https://hub.realtor.com/resources/local-real-estate-seo-tactics
By Justin Davis
There are various strategies for getting exposure to realtor websites and Google My Business (GMB) listings in search results. Search engine optimization (SEO) is the only form of digital marketing that can improve the position of a website or GMB listing for various keyword phrases in search.
Showing up higher and more often for popular searches with good user-intent means more targeted leads and more business. Realtors love clever ways to market their properties. This guide gives actionable advice on how to get more eyes on local property listings from Google search.
Improve Rankings in Local Listings
Realtors need to be found near the top of the local map section of Google search results when someone is searching for an agent.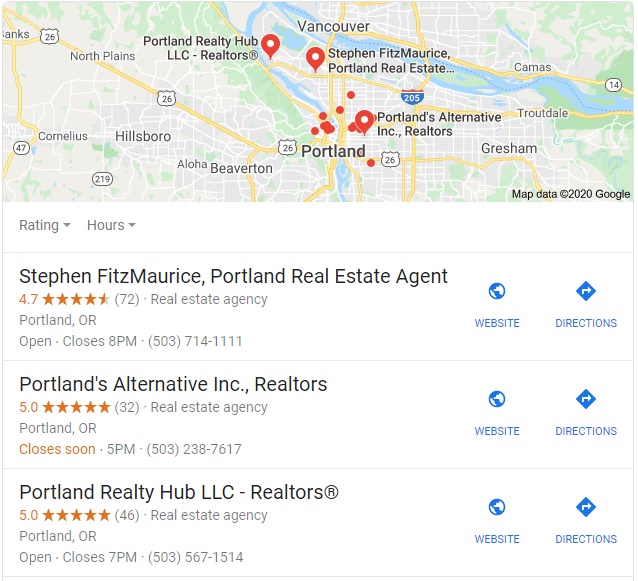 There are many reasons search engines like Google give preference to a website in the local map section. The reviews, general SEO strength, NAP+W citations, and localized content and links are all big factors in determining which businesses are up top and which are below the fold.
Encourage and Develop High Quality Reviews
The amount and quality of reviews are factors in local map rankings. Businesses should actively employ review-building tactics to encourage participation and reviews on their Google My Business Listing.
Keep in touch with clients a few times during the first three months after selling a property. By staying in touch, clients will be more receptive and not feel disturbed when asked to leave a review. Regular contact will allow allow the realtor time to nurture the relationship and close any loose ends. In a second or third email, ask for the review directly in a single email that explains exactly how to leave you a review. Many realtors find it easiest to utilize services like BirdEye that gets reviews from customers via replies to a single text message. 
Improve Your SEO Strength
If a local real estate site ranks well in organic results already, the same SEO strength will help influence the site's position in the map section of search results. Realty sites optimized through technical onsite SEO often fare better than those that have not. This type of onsite improvement helps Google better understand the content on a page. 
Off-page factors like the quantity and quality and types of backlinks pointing to a domain are also determining factors of position in the local map section. The more authority a site has in organic results, the more likely it is to end up on the top of the list on the local map. 
Check for NAP+W Citations
The NAP+W citations of a website are another big influence in ranking in the top of the local map section. Citations are places on the web where a business Name, Address, Phone number and Website are published.  This identifying contact information should be added in the same format to authoritative directories for businesses and realtors. It should also be submitted to local data aggregators like Acxiom.com, Factual.com, Infogroup.com, and Localeze.com.

To find opportunities to build citations for a website, free Chrome extensions like NAP Hunter can help to reveal citations of competitor websites. Reverse engineer competitor citations and contact those sites to add the realtor or agency contact information. This will improve local SEO.

Depth of Content + Localized Content and Links
The fourth factor is the amount and depth of content on the site. Localized content and local links help. When the content on a web page is about a local area, and a website gets links from local businesses and organizations in that area, Google has an easier job of realizing that company is a local player. 
There are many ways to get local links. Submit agency news to local news outlets. Work with organizations in the local area by contributing guest posts or donating time. Sponsor local teams and events. Become a member of local groups and industry associations. Analyze and replicate the local links that are already pointing to your competitor's sites.
Implement Structured Data Markup
Schema or structured data markup is text that can be added to the source code of a web page to give additional details about the content of that page. Basically, it's additional descriptive text for the crawlers that drive search engines. A web developer or skilled SEO technician is often required to implement this advanced SEO tactic.
For a detailed list of real estate related schema markup for realtors, see the list and link below.

Common Real Estate Schema Markup
Create Blog Posts 
Create blog posts targeting real estate keywords and local search terms such as:

[City] real estate listings
[City] homes for sale
[City] realtors
homes for sale near me
realtors near me
Do not over-optimize by using too many local or industry keywords. Use keywords naturally and only a few times per page. Use the newly created blog posts to link to local listing pages throughout the site and share blog posts on social media. 
Track SEO Progress with Key Performance Indicators
Peter Drucker coined the phrase "What gets measured gets managed." Tracking Key Performance Indicators (KPIs) to measure progress is necessary in determining the value of a SEO campaign. Keyword rankings, organic search traffic, positions in the local map section, amount of citations and links built, leads or contacts, and website conversions are all performance indicators of the success of the SEO campaign. Monitoring these numbers regularly makes it easy to identify gains and double-down when something works, or put the brakes on when it doesn't.
Rankings/Keyword Positions
Tracking keyword rankings or positions in organic search usually requires a SEO tool. Some of the common tools used for this type of task are Ahrefs and SEM Rush. Cumulative increases in keyword rankings can indicate progress, and decreases can mean something was done incorrectly or there is another type of problem at hand. 
Tracking positions in the local map listings is often easiest with a tool like the Local Rank Tracker from Whitespark. Tools like this track the rankings of a website in the local map section of Google for gains and losses.
Track Organic Search Traffic
Google Analytics reveals exactly how many users come to a site through organic search results. One sign of a successful campaign is an increase in traffic from search.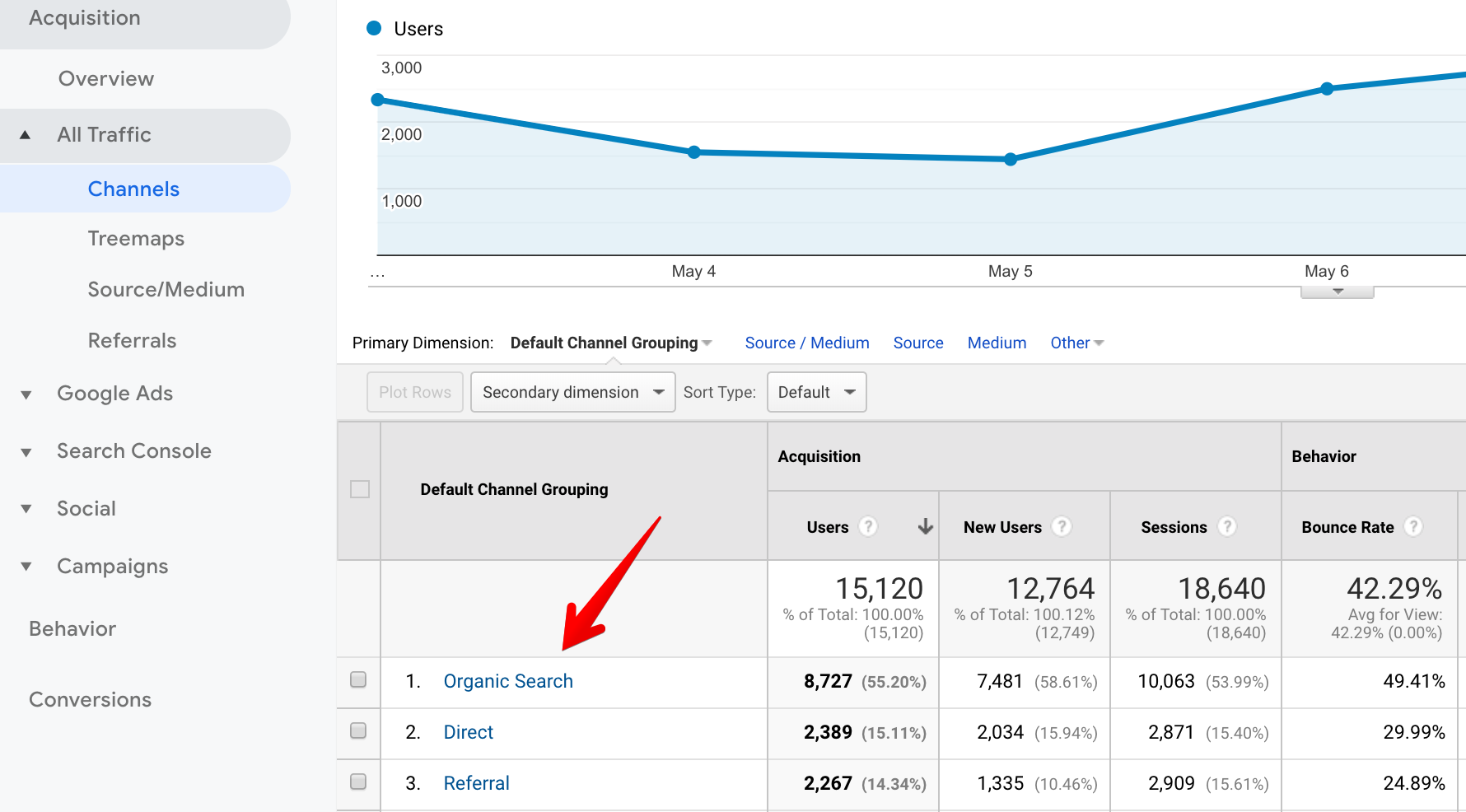 Increases in organic traffic are usually for one of three reasons: progress made from a SEO campaign, higher search volume, or fluctuations in competition. 
Use Google Search Console to learn exactly what keyword phrases brought users to a site from search. The "Queries" tab will show which keywords were searched on Google to find the site. Target keyword phrases with high impressions and low CTR (click-through-rate). Modify page titles and descriptions to match what users are searching for.
Summary
Improving SEO and rankings of realtor sites and GMB listings in Google search requires consistent work in a few areas. Nurturing great reviews, optimizing onsite factors of the website, building backlinks and citations, and regularly adding blog posts are the requirements of search success. Utilize these strategies for a leg-up when competing for limited real estate among the top spots of Google's search results.