Case Study: Analyzing 1,000 Law Firm Websites for Average Backlinks, Organic Search Traffic and Keyword Positions
A common question asked by prospective SEO clients regarding backlinks is some variation of "how much progress can you make and in how long?" The answer depends on the current authority of their website and the level of competition among other websites they are competing with in organic search. This article was created so that I could steer that particular conversation towards data and away from speculation.
What you will learn from this SEO analysis:
The average amount of organic search traffic that comes to personal injury websites each month,
The average number of backlinks a personal injury website has,
The average number of keywords that P.I. rank for organically in Google's top 10 pages.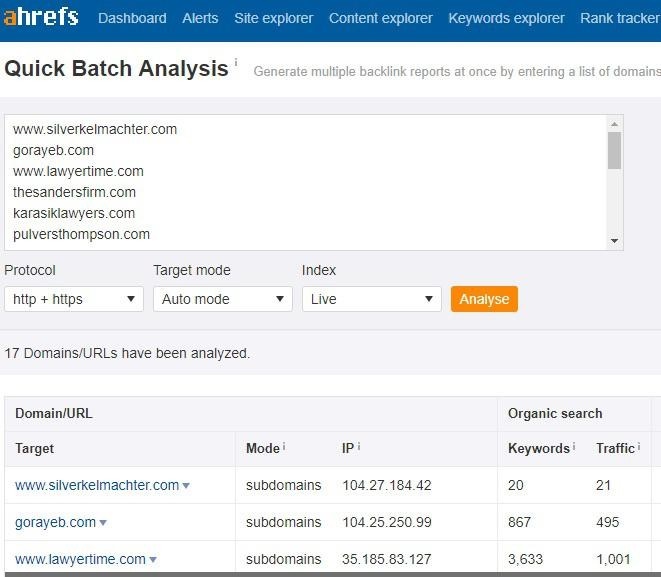 Case Study
Objective: Examine 1,000 personal injury law firm websites. Figure out how the average personal injury attorney website performs in regards to SEO. Figure out the average number of backlinks, the average amount of organic search traffic, and the average number of keywords ranked in the top 10 pages (top 100 results) of Google's search results.
It took thousands of clicks of my mouse, but one-by-one I compiled 1,000 attorney websites from 24 major cities in the U.S. All websites are law firms specializing in medical malpractice and/or personal injury cases. I used Ahrefs to analyze three particular metrics: estimated monthly organic search traffic, keywords ranked in Google's top 10 pages (or top 100 search results), and the number of referring domains (or unique individual websites that make up your backlink profile).
The average of all 1,000 law firms has a SEO footprint of the following:
398 monthly visitors from non-paid (organic) search results
953 keywords in top 100 Google search results
79 referring domains
Out of 1,000 websites analyzed the average law firm gets 404 visitors per month from non-paid Google search results. The average firm website also has 972 keywords ranking in the top 10 pages (or top 100 results) of Google. Finally, the average backlink profile of each website has 79 referring domains.
Website traffic ranged from 0 to 17,400 visitors per month! Below you will see Ahrefs data for a popular law firm in Charlotte. Search traffic (ST) shows an estimated 17,400 monthly visits. But many websites had little to no organic search traffic at all.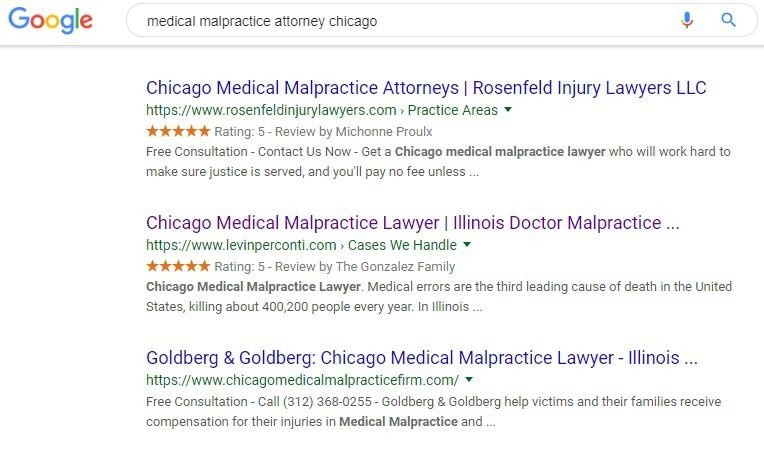 In fact, out of 1,000 attorney websites, 98 had estimated organic search traffic of 0! That's 10% of all lawyer websites I analyzed. In fact, half of the list (the lowest 500 in regards to Google search traffic) only had an estimated 55 or less website visitors per month from organic search!
The top 10% of websites in regards to search traffic had monthly visitors ranging from 931 on the low end and 17,377 on the high end.
The website with the most keywords ranking in the top 10 pages was The Carlson Law Firm. They rank for 3,845 English keywords in the top 100 results! This ranking power brings in an estimated 6,400 website visitors each month. In the image below you will see examples of a Google search for "texas child support" showing their website at position 2. Understanding where you rank and how to improve is an essential part of running an effective digital marketing campaign.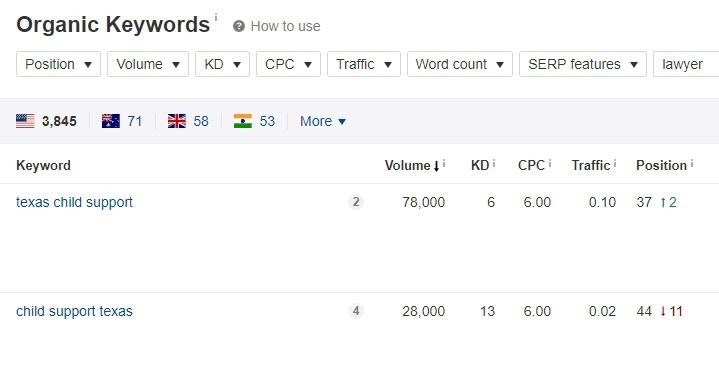 The amount of backlinks ranged from 0 to 2,037. The worst half of the list (lowest ranking 500 websites in regards to number of backlinks) had 0-36 referring domains. The top 10% of the list in regards to backlinks had at least 200 referring domains and seemed to range in the 3, 4 or 500 range.
The lowest 10% in regards to backlinks (sites with 4 referring domains or less) averaged organic search traffic of only 7 monthly users!
Why These Key Performance Indicators (KPIs) Matter
Organic search traffic, number of keywords ranked and the number of backlinks a website has is important data for me to t for my clients. These numbers allow you to measure the impact of the SEO efforts of your personal injury firm. It can show growth and it correlates directly with search engine optimization efforts.
Organic search traffic shows how many visitors are coming to your website via non-paid Google search results.
The number of keywords that your website ranks for in the top 10 pages of search results is very important to understand for various reasons. Your marketing person should be able to pull data showing your exact position in Google search for all keywords and for any given date or range of dates. You should know how your top 10 or top 100 performing keywords are doing in comparison to competitors, and how close your firm may be to page 1 or the top of the first page for various keywords. Many studies show the difference in click-through-rate over a few positions in Google search results:
Study 1: Comparison of Google clickthrough rates by position
Study 2: No. 1 Position in Google Gets 33% of Search Traffic [Study]
Study 3: Page One: What's A Google Rank Worth
Study 4: The State of Searcher Behavior Revealed Through 23 Remarkable Statistics
Analyzing and understanding missed opportunities that result from lost search traffic is useful when understanding the role of SEO and how it contributes to your marketing goals.